Archaeology Month 2016


SAVE THE PAST FOR THE FUTURE
Archaeology Month is sponsored by the Pennsylvania Historical and Museum Commission, the Society for Pennsylvania Archaeology, Inc., and the Pennsylvania Archaeological Council. Its purpose is to increase awareness of the important historic and prehistoric archaeological sites in the Commonwealth. These sites are part of the heritage of all Pennsylvanians. Everyday, archaeological sites are destroyed. We hope that through the Archaeology Month events, more Pennsylvanians become aware of this part of our history and work to protect our endangered resources.
Unless otherwise noted, all events are free and open to the public.
Calendar of Events
Allegheny Chapter 1, Society for Pennsylvania Archaeology
Chapter meeting on Tuesday, October 4 at 7:30 p.m. at the Michael Baker International office, 100 Horizon Drive, Moon Township, PA 15108 in the presentation room on the first floor. The guest speaker is Dr. William C. Johnson who will present the program The Massawomeck-Protohistoric Monongahela Connection. For more information contact Amanda Valko at amanda@quemahoning.com or 724-654-2744. An abstract for Dr. Johnson's program follows.
John Smith's account of the founding of Jamestown refers to the mysterious Massawomeck. Smith's early writings indicate he had learned that the Massawomeck were powerful enemies of the Powhatan chiefdom as well as the Susquehannocks. On July 31, 1608, during his second voyage up Chesapeake Bay, John Smith and his men encountered seven or eight birch bark canoe loads of Massawomeck off the mouth of the Sassafras River. The next recorded episode of direct contact between the early English colonists and the Massawomeck occurred in 1632 during Henry Fleet's expedition to the Falls of the Potomac River, where he traded for furs with the Massawomeck. Other than these more detailed references, the historic record associated with early European colonization of Chesapeake Bay provides us with little additional information on the Massawomeck, particularly the tantalizing question regarding their cultural identity. This presentation draws upon on-going archaeological research and cartographic and historic documentation to argue that the Massawomeck included the Protohistoric Monongahela and Wellsburg phase people of the lower Upper Ohio Valley. Archaeological research also indicates that the terminal Late Prehistoric and Protohistoric Johnston phase Monongahela were most likely James Pendergast's Antouhonorons, thus, providing the link between the Massawomeck and a northern, lower Great Lakes homeland. Finally, it increasingly certain that the post-1635 Monongahela were the Black Minqua of the Dutch documents. After their dispersal by the Seneca, ca. 1634-1635, the majority of the refugee Monongahela joined the Susquehannocks in the lower in the lower Susquehanna River Valley.

John Shrader Chapter 21, Society for Pennsylvania Archaeology
Chapter meeting on Wednesday, October 5 at 7 PM in the mule stable of Joanna Furnace, 1250 Furnace Road, Geigertown, PA 19523, in Berks County. Guest speaker is Dr. Heather Wholey from West Chester University who will discuss the Steatite Quarries in Southeastern Pennsylvania.
Members of John Shrader Chapter 21 will have an exhibit on archaeology and on SPA at the Apple Festival at Joanna Furnace, 1250 Furnace Road, Geigertown, Berks County, on Friday and Saturday October 8 and 9. Chapter members will be digging at the Mouns Jones House in Berks County every Wednesday and Saturday of October from 9 AM to 12 noon. Students from Montgomery County Community College will participate in the dig every Saturday in October. The Mouns Jones House, also known as Old Swede's House, was built in 1716 and is the oldest surviving house in Berks County and one of the few remaining examples of a Swedish settler's dwelling. The house was restored by the Historic Preservation Trust of Berks County. The Chapter has been digging here to try to locate any outbuildings which are no longer extant and any artifacts and features associated with this historic structure. For more information contact Cathy Spohn at cspohn@pa.gov.
Slippery Rock University
Third annual Archaeology Day at the Old Stone House, 2865 William Flynn Hwy, Slippery Rock, PA on Sunday, October 16th from 1:00 to 4:00 p.m. Learn about local history and archaeology. Free event open to the public. For more information contact Dr. Aksel Casson at 724-738-4632.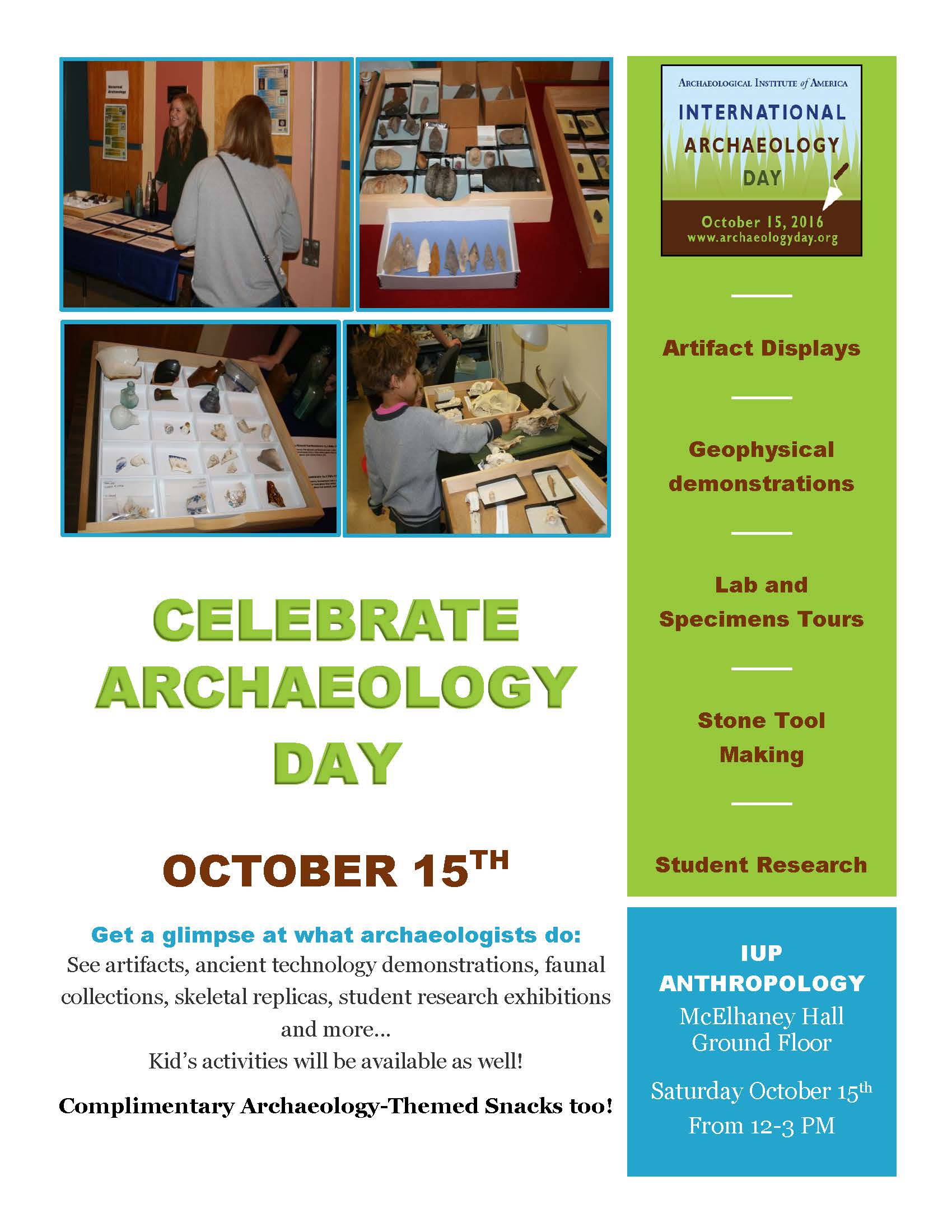 Indiana University of Pennsylvania
Archaeology Open House, Saturday, October 15th from 12 noon to 3:00 p.m. in McElhaney Hall, ground floor. Get a glimpse at what archaeologists do! There will be artifact displays, technology demonstrations, stone tool making, geophysical demos, student research, and kid's activities plus archaeology themed snacks.

Section of Archaeology, The State Museum of Pennsylvania
Fort Hunter Archaeology
The Section of Archaeology at the State Museum will be conducting their excavation at Fort Hunter Mansion & Park between September 7th and October 7th, 2016. The public is welcome to visit and archaeologists will be on site, weekdays between 9:00 am and 4:00 pm.
This year's archaeological investigations will be conducted primarily in the back yard, in the area around the structure previously identified as an icehouse. Excavations last year revealed that the foundation was less than six feet deep which did not agree with the historic account that describes the icehouse as over 15 feet deep. This year we will continue working inside the milk house to date this structure and better understand its relationship to the adjacent well.
Plans include further investigation of a circular rock foundation, 12 feet in diameter, interpreted as the smokehouse described in an early magazine article. Many of the rocks are large cobbles, but there is also a mixture of smaller cobbles and dressed pieces of diabase. There is a significant builder's trench about 18 inches deep associated with this feature. The rocks do not appear to be aligned for a foundation but seem to have been disturbed. Possibly, the foundation was partially removed (robbed) to be used in some other structure. There also seems to be a small open ended rectangular structure on its north side, possibly a stove as described in historic documentation. Recovery of 18th century artifacts and the low density of artifacts, suggests that these are early features. We are starting to get a better picture of the cultural landscape of Fort Hunter. Mr. Hunter and Mr. McAllister were true entrepreneurs and we are beginning to uncover the early projects that made them and their families successful.
Visitors at Fort Hunter Mansion and Park enjoy learning about the archaeological investigation and often stop by several times a week to check on our progress. This is a great opportunity to visit an archaeological site and experienced volunteers are always appreciated. Please contact Kurt Carr at (717)783-9926 or kcarr@pa.gov for additional information or to volunteer.
2016 Workshops in Archaeology
The State Museum of Pennsylvania, 300 North Street, Harrisburg, Pennsylvania along with its cosponsors, the Society for Pennsylvania Archaeology, Pennsylvania Archaeological Council and the PA State Historic Preservation Office presents the 2016 Workshops in Archaeology, Saturday, October 29, 2016.
Understanding Symbols of the Past
Objects, Landscapes and Native American Beliefs
What is the meaning behind petroglyphs, effigy mounds, beadwork, and images on pottery and smoking pipes? The Archaeology Section of The State Museum of Pennsylvania invites you to attend the annual Workshops in Archaeology on Saturday, October 29, 2016. This program is designed to provide the general public with an overview of archaeological discoveries and research being conducted in the region. This year's theme will focus on Indian symbolism in artifacts and on the cultural landscape.
Anthropologists have long examined symbols created by past cultures as a way of interpreting and understanding social, political or individual expression. These take the form of abstract designs and depictions of animal, human and supernatural figures, frequently in stone and clay. The arrangement of earthworks and mounds also had meaning to people in the past.
Some of these symbols had religious connotations. Others represented clans or depicted supernatural beings that required appeasement. Although rarely found at archaeological sites, symbols on baskets or beadwork on clothing are also expressions of religious and cultural beliefs. Some designs may have been simply decorative art. Whatever the case, they are reflections of how people perceived and organized their world. Symbolic artifacts recovered from the archaeological record provide a unique resource for examining past cultural behavior. The presenters will examine the archaeological evidence of symbolism in Native American cultures and offer insights into their interpretations.
In addition to the presentations, attendees can share their archaeological discoveries with staff from the State Historic Preservation Office who will provide assistance with identifying artifacts and recording archaeological sites, essential tasks for protecting and preserving our archaeological heritage. An additional offering includes a demonstration by a master flintknapper who will make stone tools using Native American techniques. A reception at the close of the sessions will provide an opportunity for the attendees to meet with the presenters and staff in the Anthropology and Archaeology Gallery of The State Museum.
Workshops in Archaeology Program
8:30-9:00 Registration
9:00-9:10 Opening Remarks by Beth Hagar
Images on the Landscape
9:10 - 9:50 Session 1 – Petroglyphs by Ken Burkett/Paul Nevin
9:50 - 10:20 Session 2 - Rock Cairns by Daniel Cassidy, Jesse Bergevin & Christopher Bergman
10:20 - 10:40 Break
10:40 - 11:20 Session 3 – Ohio Hopewell by Paul Pacheco
11:20 – 12:00 Session 4 - Mound Effigy by Mark McConaughy
12:00 – 1:15 Lunch
Material Culture
1:15 - 1:55 Session 5 - Shell Iconography by Dustin Cushman
1:55 - 2:35 Session 6 - Susquehannock Faces by Janet Johnson
2:35 - 3:15 Session 7 - Smoking Pipes by Rich Veit
3:15 - 3:30 Break
3:30 - 4:10 Session 8 - Beadwork Designs by TBA
4:10 - 4:50 Conclusions/Closing Summary by William Engelbrecht
4:50 - 5:00 Questions and Discussion
5:00 - 6:00 Reception in the Hall of Anthropology and Archaeology
Additional Programming
CRGIS - Tom Held & Noel Strattan
Flint Knapping Demonstration – Steve Nissly
Artifact Identification – Doug McLearen & Kira Heinrich
Meadowcroft Rockshelter and Historic Village
Archaeology Day on Saturday, October 1, 2016 from 12:00 pm - 5:00 pm.
Ever wonder how archaeologists learn about everyday life for prehistoric people? Do you have an Indian artifact you want professionally identified? As part of Pennsylvania Archaeology Month, archaeologists from the Society for Pennsylvania Archaeology will visit Meadowcroft to present lectures and identify your artifacts.
The program for Archaeology Day includes:
*An archaeologist available to identify Indian artifacts brought by visitors. Please note that this does not include appraisals but rather the archaeologist will identify the object as well as provide context and information about which cultural period it represents.
*Three lectures that will discuss a theme of adaptation & change as it relates to prehistoric diet, agriculture, and technology.
*Demonstrations of prehistoric technology in Meadowcroft's recreated 16th century Indian Village
Also, visitors can enjoy all of Meadowcroft's hands-on and interpretive areas, including the 18th century village, blacksmith forge, one-room school house, and Meadowcroft Rockshelter. Lectures and events during Archaeology Day are included in regular admission to Meadowcroft Rockshelter and Historic Village. For more information
There are numerous websites where you can find further information about archaeology in Pennsylvania.
SAVE THE PAST FOR THE FUTURE